Morris Dancing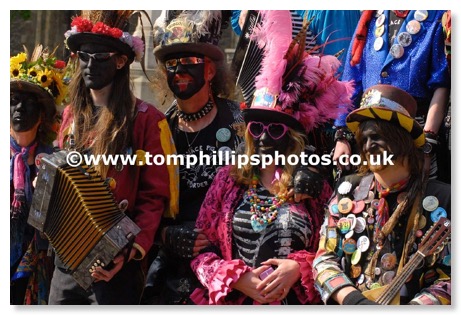 In many quarters, Morris Dancing is unfashionable. Long may it remain so!

In the last fifteen years or so, like many of the best traditions, it has re-invented itself in many new interpretations, some rooted in the past, many not! It's high time for some new ones, too! Keep an eye out for "steam-punk" style!

I've been a (non-participant) fan for many years. As a pastime (I even once heard it called a sport!) it is one of the last resorts of the true English eccentric. For colour, spectacle, beer and genuinely nice people, it is hard to beat.

This part of the web site is currently mostly devoted to the Rochester Sweeps Festival. I have other material from elsewhere that I really must get around to adding.


Rochester Sweeps Festival

Great fun, first weekend in May every year without fail. There are now photos here from the last 10 YEARS of Sweeps Festivals!

May 2007


May 2008


May 2009—Saturday

May 2009—Sunday


May 2010 Saturday (Sorry, Sunday was a washout!)

May 2010—Monday


2011—Saturday 30 April

2011—Sunday 1 May

2011—Monday 2 May


2012 - Saturday 5 May

2012 - Sunday 6 May

Sadly, I missed the Monday's fun in 2012.


2013 - Saturday 4 May

2013 - Sunday 5 May

2013 - Monday 6 May


2014 - Saturday 3 May (updated 6 May 2014)

2014 - Sunday 4 May

2014 - Monday 5 May



2015 - Dawn celebrations on Friday 1 May (added 5 May 2015)

2015 - Saturday 2 May (added 5 May 2015)

2015 - Sunday 3 May (added 5 May 2015)

2015 - Monday 4 May (added 5 May 2015)


2016 - Saturday 30 April

2016 - Sunday 1 May, including dawn celebrations

2016 - Monday 2 May


Latest!

2017 - Saturday 29 April

2017 - Sunday 30 April

2017 - Monday 1 May (sorry, I missed the dawn celebrations)



A few Tenterden Folk Festivals

Pictures from October 2007

Pictures from October 2008

Pictures from October 2009

Pictures from October 2010

Regrettably, I have missed several more recent Tenterden Festivals but got there in 2017!

Pictures from Sunday 8 October 2017


Other Morris Photography

On 10 June 2015 I had a delightful evening photographing the very contrasting Steampunk Morris and the Weald of Kent Morris at Frittenden in Kent. Photos here.

And on 21 September 2016, I was pleased to shoot this set of photos of Steampunk Morris with Bower Street Morris, at the Flower Pot in Maidstone.

On 9 September 2017, I got to photograph Cuckoo's Nest, The Seven Champions, and Adderbury Morris, at the Bull at Benenden, in Kent. Photos here.