British Masters Athletics Indoor Championships,
Lee Valley, London
10 and 11 March 2018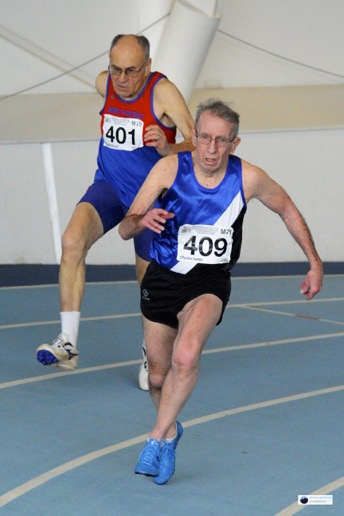 Given this was the second year in a row that injury had robbed me of the opportunity to race, I again had the chance to dive in deeper with the event's photos. This page contains links to a lot of photos, as a result. However, I'd still rather have been fit to race.

As I said about last year's coverage of the BMAF Indoors (and I've been banging on about it for several years), there are gaps in my coverage nevertheless. This is because of the dreadful lighting within the Lee Valley Stadium, particularly when the short sprints and the hurdles events are on. The stadium has good halogen lights over the sprint straight, but I am continually advised that these interfere with the photo-finish equipment. Shooting the fastest events of the day in the poorest light is a recipe for missing a lot of good images, but I do my best. And no, despite what was suggested to me, I am not going to shoot with a flashgun at athletes sprinting and hurdling.

The weekend saw many records set, including two world age group records (subject to ratification at the moment) and a record entry for the championships overall. Very well done to Maurice Doogan and his team of officials, and to all of those who made this event possible.


Saturday 10th March

Men's action for the day is
here

Women's action for the day is
here

_________________________________________________________________


Sunday 11th March

Men's action for the day is
here

Women's action for the day is
here


_________________________________________________________________

On a sad note, Masters athletics, pole vaulting and Welsh athletics has lost the great John Howe, who died suddenly a few weeks before the Championships. He was still listed in the entries as the competition began. Therefore, I had the idea of bringing along a large copy of my favourite photo of John, which we put up on display all weekend in the pole vault area, so that he could at least be there in spirit. On the Sunday afternoon, we gathered together most of the vaulters who had been competing over the weekend (and a few who weren't) and took a group shot: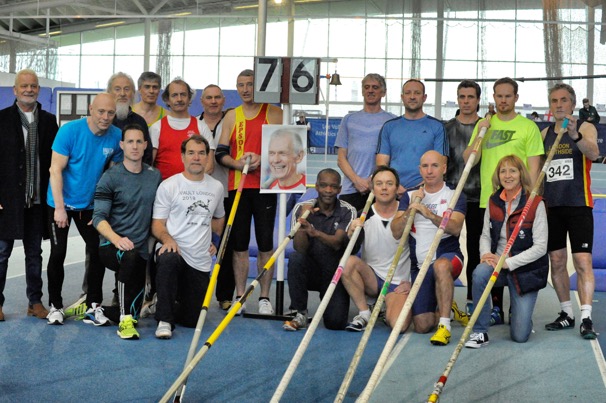 _________________________________________________________________


See the rest of my 2018 Masters Athletics coverage
Go to my main Masters Athletics Index page
Go to my Home Page