European Masters Indoor Championships,
Madrid, Spain
19 March to 24 March 2018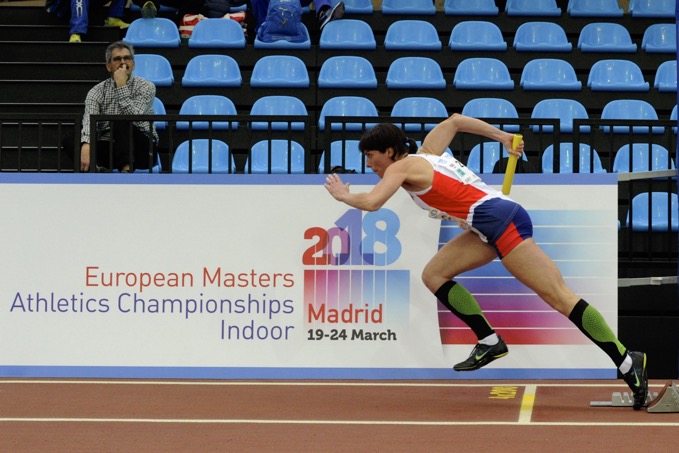 A tough one from my point of view. Quite a sudden return to top-class competition, after a full year off with a shoulder injury. I'd also hurt my calf in my first race of 2018, and had only raced twice. I'd passed up on doing the British Championships in order to rest my leg. When I arrived in Madrid, I therefore had no race form. I'd not raced at 60 metres indoors since April 2016!

The event organisers had, for reasons presumably to do with cost, shortened the Championships by a day. However, there were every bit as many competitors as usual, if not more, and the same number of events to get through. This meant that most days were a non-stop conveyor belt of races and events in the stadium, typically on a timetable from 9 in the morning to 11 at night. On many occasions, I had not even finished shooting a post-race group shot of an event before the next one had begun on the track. As an athlete who is a trackside photographer only when not racing, it was simply impossible to cover all events on every day. I raced six times, and on three separate days, at these Championships.

For the sake of my own health and race fitness, I'd already decided before leaving home, that on my own race days, the cameras would stay in the hotel. I pretty much managed to stick to this, but it means, of course, that my photographic coverage of the Championships is rather patchy. That's not actually an apology. By not exhausting all my energy working as a photographer, I had a very successful time in Madrid as an athlete, despite everything that had happened in the previous fifteen months or so. However, I make no claim for my Madrid photos to be a comprehensive overview of the Championships.

My photos of Madrid include several of the great Irish team at the Championships, who regularly seem to adopt me as their photographer too!


Monday 19th March

I had no race commitments this day, so I shot for about five hours in the stadium from mid afternoon to the end of the scheduled events. These included the finals of the women's 3,000 metres races, qualifying rounds of the 400 metres, and some very good long jump and pole vault action.

Photos of the men's events are
here
.
Photos of the women's events are
here
.
_________________________________________________________________


Tuesday 20th March

I didn't take any photos on this day. I had the qualifying heats of the 60 metres at 5pm and rested much of the day. I was glad about that. I came second in my heat, and made it through to the semi-finals, which took place after 10pm that evening. I came fourth in the semi-final and gained a place in Wednesday's 60 metres final. I was both a bit amazed, and very pleased about this. I'd matched my achievement in Ancona, two years previously.



The photo above, by my relay team compatriot Bob Douglas, shows me (on the right) on my way to second place in the 60 metres heat. Thanks Bob!
_________________________________________________________________


Wednesday 21st March

Again, no photos. The 60 metres final was late in the afternoon, and delayed. I ached after the two rounds the previous day, and was glad of the rest. In the final I placed 6th. This was the same as in Ancona, although this race wasn't as much of a cliff-hanger as that final had been. Nevertheless, 6th in Europe suits me fine!
_________________________________________________________________


Thursday 22 March

Despite this being my birthday, there was no let-up. I had the qualifying rounds of the 200 metres, beginning with a mid-morning start for the heats. A little to my surprise, I placed second in mine, and made it quite easily to the semifinal at the end of the afternoon. The gap wasn't really long enough for proper rest, but I took the bus back to the hotel, and put my feet up, nevertheless.

The semi-final was a disaster. At 50 metres, my legs simply gave up on me, and I drifted slowly and painfully round to the finish. It would have been a better idea to have pulled up. It was no comfort to learn that I'd also been in the fastest of the semifinals.

I'd broken my rule, and taken a camera with me, just in case I'd not needed an early night in preparation for Friday's 200 metres final. This meant that I could photograph some of the later 200 metres qualifying events, plus a number of the 800 metres finals.

Photos of the men's events are
here
.
Photos of the women's events are
here
.
_________________________________________________________________


Friday 23 March

A "day off" (ha ha), at least in the sense that didn't need to race today. I had a very long day, however, starting quite early in the morning photographing 1,500 metres finals, before shooting some of the 200 metres finals until evening. I got called away from the track to shoot some medal presentations, and then simply ran out of energy and enthusiasm to return. In any event, there was no way I could have stayed (or stayed awake!) to shoot all the heats and finals of the sprint hurdles, until almost midnight. My photos also include parts of some of the men's pentathlons, and the women's triple jump.

I'm particularly pleased with many of the photos from this day.

Photos of the men's events are
here
.
Photos of the women's events are
here
.
_________________________________________________________________


Saturday 24 March

Last lap - literally. It was time for the 4x200 metres relay I was doing my customary lead-off lap, for a team that had been depleted by injury to a key member the day before. On paper, our chances for at least a silver medal had looked good, but perhaps looked more slender now. I was feeling the benefit of an excellent massage I'd had the day before. I was also, I hoped, over the trauma of my 200 metres semi-final experience. I ran well, and handed over the baton in a second place that my three comrades stretched and protected to the end. As in Ancona, we'd finished second to a top German squad, and, to our surprise, we'd also run faster than in Ancona.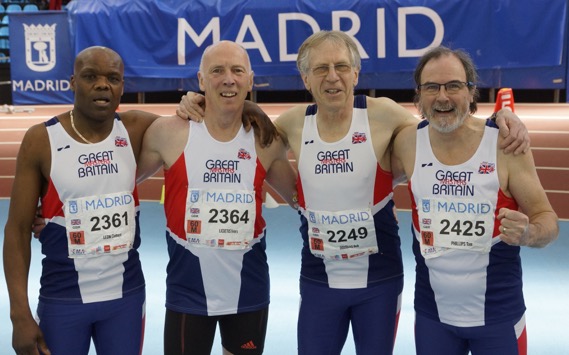 Clem, Ivars, Bob and myself, immediately after our relay. Photo by the EMACI photo team in Madrid.


Job done, medal presentation attended, and then I was back on the track with the camera, shooting the rest of the day's relays.

Photos of the men's events are
here
.
Photos of the women's events are
here
.

And that was it.
_________________________________________________________________


See the rest of my 2018 Masters Athletics coverage
Go to my main Masters Athletics Index page
Go to my Home Page